Activation Engineering Manager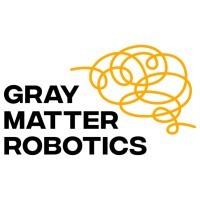 GrayMatter Robotics
Software Engineering, Other Engineering
Los Angeles, CA, USA
Posted on Wednesday, November 1, 2023
Summary
Headquartered in sunny Los Angeles, GrayMatter Robotics is a well-capitalized AI robotics startup serving the manufacturing industry. We empower shop floor workers with our smart robots that assist with tedious and ergonomically challenging tasks, specifically in automated surface finishing. Our proprietary GMR-AI™ software is integrated with state-of-the-art industrial robots, sensors, and tools to create application-specific turnkey solutions for customers through a Robot-as-a-Service (RaaS) model.
We help manufacturers improve the quality of life for their workforce while increasing production capacity, and reducing scrap, repair, and rework costs. As an Activation Engineering Manager, you will lead our Activation team onsite in our Gardena, CA office, and at various customer facilities, to develop, implement and deploy robotic systems for surface treatment applications.
Role & Responsibilities
This is a multifaceted role, spanning technical leadership, operational success, and customer engagement. The Activation Engineering Manager will oversee the entire activation org, ensuring the successful completion of each project, allocating resources and creating ambitious, yet attainable timelines while maintaining high-quality standards. Your responsibilities include:
Operational Leadership

Providing technical leadership and expertise to drive team growth and success.
Conduct regular performance evaluations, provide feedback, and identify training needs to build a highly skilled and motivated engineering team.
Manage resource allocation, workload distribution, and project prioritization to ensure timely and successful project deliveries.
Oversee the activation stage of the project lifecycle, ensuring adherence to timelines, budgets, and quality standards.
Develop and maintain engineering best practices, processes, and standards for efficient project execution.
Collaborate with cross-functional teams, including design, development, software engineering, project management, and sales, fostering proactive communication and collaboration.
Drive continuous improvement initiatives to optimize system activation engineering processes, enhance product performance, and streamline development cycles.
Coordinate system testing, calibration, and troubleshooting activities to ensure optimal system performance and reliability.

Customer Success

Oversee the activation and integration of robotic systems at customer sites, working closely with the implementation team to create scalable and repeatable processes.
Collaborate with external customers and stakeholders to understand their needs, address technical challenges, and ensure customer satisfaction with delivered solutions.
Collaborate with the sales team, preparing proposals and conducting product demonstrations.
Provide training and support to customers, enabling effective operation and maintenance of deployed robotic systems.
Travel to customer sites as needed for on-site support and project activation.
Gather customer feedback and analyze market trends to identify areas for improvement and innovation in robotic system offerings.
Minimum Qualifications
BS/MS in Robotics, Mechanical Engineering, Electrical Engineering, Computer Engineering, or equivalent experience.
2+ years of experience in leadership, overseeing engineering teams, and successful project delivery.
5+ years of experience in cyber-physical systems, manufacturing automation, or similar.
Strong leadership and interpersonal skills, build collaborative relationships, and communicate effectively across organizational levels.
Excellent written and verbal communication skills, with the ability to present technical information to both technical and non-technical stakeholders.
Willingness to work in a fast-paced environment with quickly changing priorities.
Must secure work authorization in the United States and maintain ongoing work authorization beginning at the time of hire through the entirety of employment.
Preferred Qualifications
Experience in managing operations in a manufacturing facility.
Familiarity with industrial facilities and equipment.
Experience with 6DOF robots, FANUC robots, or similar.
Familiarity with CAD, prototyping, and assembly.
Experience with Arduino, controls, SW/HW integration.
GrayMatter Robotics provides equal employment opportunities to all employees and applicants for employment and prohibits discrimination and harassment of any type without regard to race, color, religion, age, sex, national origin, disability status, genetics, protected veteran status, sexual orientation, gender identity or expression, or any other characteristic protected by federal, state or local laws. This policy applies to all terms and conditions of employment, including recruiting, hiring, placement, promotion, termination, layoff, recall, transfer, leaves of absence, compensation and training. We celebrate diversity and are committed to creating an inclusive environment for all employees. We encourage and embrace applicants of all backgrounds to apply!
GrayMatter Robotics is committed to providing reasonable accommodations for candidates with disabilities. If you believe you require accommodations during the recruiting process, please contact accommodations@graymatter-robotics.com to submit your request.
Please note this job description is not designed to cover or contain a comprehensive listing of activities, duties or responsibilities that are required of the employee for this job. Duties, responsibilities and activities may change at any time with or without notice.
Compensation for this position includes the base salary range of $140,000 - $170,000 USD plus equity. We also provide comprehensive benefits and perks which include but are not limited to medical, dental, vision, unlimited PTO, 401(k) plan + employer match, regular offsite events, a discretionary fund for enhancing productivity and so much more! The range listed on job postings reflect the minimum and maximum new hire salary across levels in Los Angeles, CA.